YORK Athletics literally would not exist without Gail York. Our heritage in sportswear began with Gail's father Henry Spaulding, which inspired her and her husband to open their own business, outfitting Northern New England with athletic gear and making an impact on the community. When we say sportswear is in our blood and talk about our family history in athletic gear, it all starts with this amazing woman, a living, breathing example of an everyday fighter that was light years ahead of her time. Hard work, discipline, integrity, passion, balance, and family are all values passed down by our matriarch, Gail York.
A Young Gail York in High school  
An entrepreneur, mother of five, investor, innovator, and fixture in her community, you can't define Gail York as one thing. Years ago while grieving the passing of her Mom, she read a book, Feel the Fear and Do it Anyway, by Susan Jeffers, Ph.D. that discussed the idea of self-diversification and having many areas of one's life that bring joy and balance. With many interests, defined as 'boxes,' if something went wrong with one of your boxes so to speak, you would have other areas to maintain some semblance of balance. This idea really resonated with Gail and she's made it a point to have many boxes in her life being a mother, wife, grandmother, friend, owning her own business, and being an active member of many organizations in her community like the Manchester Garden Club where she's been President and on the board, as a Trustee of the Manchester Historic Association, Currier Museum of Art member and supporter, Book Club, member of the Daughters of the American Revolution and the Founders and Patriots of America, on the President's Alumni Advisory Council of her alma mater Colby-Sawyer College and "The Moonlighters," a stock market investment club for women that meets once a month and talks and invests in stocks (do you know what dividend reinvestment is? I had to look it up. Maybe we should join her club!?)
But we need to start at the beginning. Gail was born and raised in NH. Her mother, Viola, immigrated here from Greece, and her father, Lt. Colonel Henry Spaulding, a NH native and a WWII veteran, met Viola's brothers, Peter and Chris Agrafiotis. Through those friendships, he met and fell in love with Viola.

A Young Gail York with her parents, Henry Spaulding and Viola Spaulding 
In 1946, John Danos (married to Viola's sister, Eva) and Henry founded Indian Head Shoe Company, specializing in manufacturing leather athletic footwear, and in 1963, they expanded manufacturing with the purchase of the now historic R.G. Sullivan 7-20-4 Cigar Building in Manchester, NH, making  performance footwear like high-top leather cleats, bowling shoes and ice skates that were sold all over the country as well as for professional athletes like football legend NFL quarterback Johnny Unitas and Olympic champion Peggy Fleming.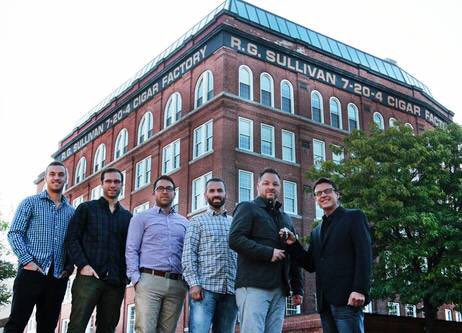 The five York boys repurchased the 7-20-4 Cigar Building in 2015
Gail and her brother Bruce grew up spending time in their father's factory and Gail has a lot of fond memories watching the shoe making process first-hand. The craftswomen who hand-sewed leather footwear uppers at the factory would occasionally make her custom leather apparel. Growing up in this unique atmosphere had a lasting impact on Gail, engraining in her a strong work ethic and entrepreneur spirit.
A proud father, Henry Spaulding walking Gail York down the aisle
Gail describes her father as "salt of the earth" and says her mother, who had been a teacher, really respected living in the US, learning the language, history and culture. She passed that love of her country onto her children and both of her parents, who were well-educated, encouraged Gail and Bruce to be curious and speak their minds. They also taught them about saving and investing money. Gail remembers when she was in grammar school, the local bank came in and gave the students bank accounts and Savings Pass books (if you're younger than 40, you probably don't know what that is, but it was a book that resembled a passport that was used to keep track of deposits and withdrawals). By the end of grammar school, Gail had worked hard and saved $300, which would probably be the equivalent of close to $3,000 today. Her mother, who was part of a women's stock market investment group called "Cloud 9" (that inspired Gail to start the "Moonlighters" later on) suggested Gail take that money and invest it in the stock market. For her very first stock, she chose Martin Marietta, an American-based building material company, that later merged with Lockheed Corporation to form Lockheed Martin, and she still owns shares in that company today.
Gail and her granddaughter Sylvie making Greek Spanakopita, a dish Gail's mother used to make for the family
Gail went to college at Colby-Sawyer College in New London, NH, and Notre Dame College earning a degree in Business Management, summa cum laude. She says she's always had an interest in business looking at different business models and trying to stay current with present innovations.
She met her husband Don York while in high school and in 1980, the two further developed the 2nd generation of the family business, Indian Head Athletics, a sporting goods store in Manchester, not 5-minutes from the Cigar Building where her father's manufacturing was located. Indian Head Athletics outfitted schools, teams and families with sportswear and equipment. While Gail and Don continued to grow their business, they grew their family and raised their five boys. Balancing a business and a family was hard work, but Gail loves being a mother, making her children and family her priority and being very involved in their lives growing up. She said roots, discipline, kindness and respect (and having their own "boxes" of their passions) were important to instill in them as a mother and a woman, and she had high expectations for herself and her children. That strong value system she learned from her parents was passed on to her own kids, making sure they understood the importance of family and an appreciation of the little things, like sitting down for dinner together and marveling at nature. Fast forward to today, four of her five sons are married and the family has thus expanded-number ten grandchild is due in April. They're all extremely close.
The entire York family outside of Indian Head Athletics
Gail describes being a mother: "Like getting a job description that changes constantly, so you have to constantly adapt." As her kids grew older, she found that it was really helpful to have other interests. She also prioritizes her mind, body, and spirit by taking care of her health and overall wellness. She eats a healthy diet and stays active by doing things like gardening, yoga, and walking, making sure she gets in 10,000 plus steps every day (literally while we were doing this interview, Gail was walking for 2 hours. Talk about time management!)
Gail loves practicing Yoga and being out in nature
YORK Athletics named our new Gail Slip-on after Gail York because she inspires the hell out of us and without her, we would literally not exist. She's a living, breathing example of an everyday fighter and what it takes to live life on your own terms. The Gail Slip-on is great for walking, exploring, and traveling (when safe), all things Gail York loves to do. She's honored to have the first shoe we've named after a woman be named after her, and we're honored to have her as part of our family. In honor of Women's History Month, we pay tribute to this amazing woman and hope she inspires you to live your best life like she does us.
GET YOURSELF A PAIR, get out there and explore, and share it with us @yorkathleticsmfg #everydayfighter.